Mrs. Dash READY, SET, WIN! Game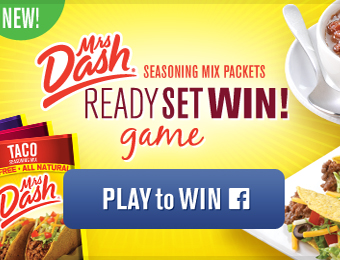 It's one thing to give nearly 190K unique Facebook users a free sample and it's another to engage an entire community daily for 6 weeks and increase the fan base by over 100K.
Mrs. Dash came to Netplus with 189,000 free samples for their Facebook fan base. We saw an opportunity to generate some extreme buzz and delivered a successful daily gaming application experience complete with weekly Timeline posts & tweets, Facebook advertising to drive participation, and 6 Food Blogger partnerships creating unique recipes that are still being shared amongst users today! Did I mention that these awesome blog partnerships were the first ever for Mrs. Dash?
View Blog Post Example #1     View Blog Post Example #2
All these tactics combined helped deliver a 996% increase in Facebook engagement and a 47% increase in website traffic in just 6 weeks! (Don't believe me? Check out the case study.)
Just take a look at a few examples out of the hundreds of positive campaign feedback from users:
"It was an easy fun filled game. I hope there will be more easy games similar to this one in the near future." – Tamega D.
"I enjoyed the game. It was quick and easy to enter. I hope they have another sweepstakes in the future." – Dawn H.
"Thanks Mrs. Dash for the chance to win. It was a fun game, please bring it back to do more promotions in the future!" – Jessica D.
Campaign Results

View Facebook App     View Facebook Album
I contributed and was responsible for the following throughout the promotion period: Overall Social Strategy, Facebook Advertising, Copywriting, Community Management, Blogger Outreach & Program Development, and Campaign Reporting. Design and Application Development can be attributed to the Netplus Team.