TINKERTOY Win-in-a-Snap Game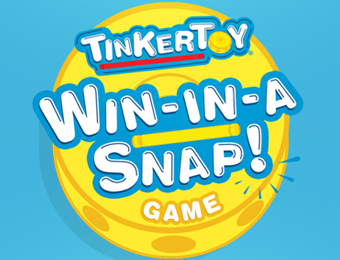 Research shows that moms love to play casual games online. But at Netplus, we would have never thought that our Win-in-a-Snap Game would have become so addicting, with the average user returning nearly 9 different times throughout 6 weeks to play. Launching a page from scratch and adding over 20,000 new fans isn't too shabby either.
Throughout the promotion period, users raced against the clock to guess the correct TINKERTOY model as the pieces snapped together. So not only was the product at center stage of the game, it also provided excellent product education. But what was most valuable about this particular promotion was the time users spent playing with their kids. Just take a look at some of the positive campaign feedback from fans:
"My nephew and I miss this game. We looked forward to each day's challenge." – Sarah L.
"Thanks TINKERTOY for an awesome game promotion. It was so much fun playing & it brought back memories of childhood!" – Britt C.
Campaign Results

View Facebook App View Facebook Album
I contributed and was responsible for the following throughout the promotion period: Overall Social Strategy, Facebook Advertising, Copywriting, Community Management, and Campaign Reporting. Design and Application Development can be attributed to the Netplus Team.